Parents Supporting Parents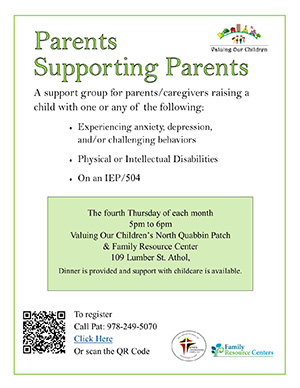 Parents Supporting Parents is a support group for parents/caregivers raising a child with one or any of the following:
Experiencing anxiety, depressions, and/or challenging behaviors
Physical or intellectual disabilities
On an IEP/504
The group meets on the fourth Thursday of each month from 5:00 to 6:00 p.m.at the Valuing Our Children's North Quabbin Patch and Family Resource Center at 109 Lumber Street in Athol. Dinner is provided, and support with childcare is available.
Please register for each session by calling Pat at (978) 249-5070 or scanning the QR code.